Welcome
White River Homes is based in Canby, Oregon, and specializes in affordable design+build for Residential Construction Needs: custom construction, complete home renovation, Additions, Room Remodels, Specialty needs, ect.
Our design+build process for new construction allows the homeowner to customize the building plans and select the finishes within an affordable budget.  To learn more about custom construction click here.
Our renovated homes are move-in ready with an emphasis placed on finding a balance between today's styles, finishes, and the original charm, appeal of the home.
We are family based, do nearly all the work ourselves and take great pride in every home and working along side our clients from start to finish.
We are more than just general residential contractors.  Our unique Team consists of Engineers, Business Entrepauers, Industrial/Technical backgrounds, and employees with many years in general construction trades.  We can help you design and build anything from house to sophisticated electronic controlled Entry Gates.  Let us be a part of helping you build your dream today.
Snyder Construction, LLC ABN White River Homes CCB#189276
Featured Homes –
572 knightsbridge, Canby – Complete and Ready for Sale!
169 NE 10th Ave, Canby – In Construction, Available in September 2019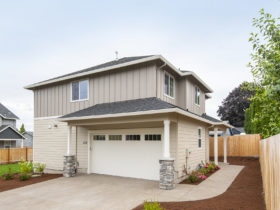 Featured Home
572 NW Knightsbridge Rd, Canby
1925 sqft, 4 beds, 2.1 baths, large spacious yard - $419,000